(Do you love reading these as much as I do? It's long, fyi.)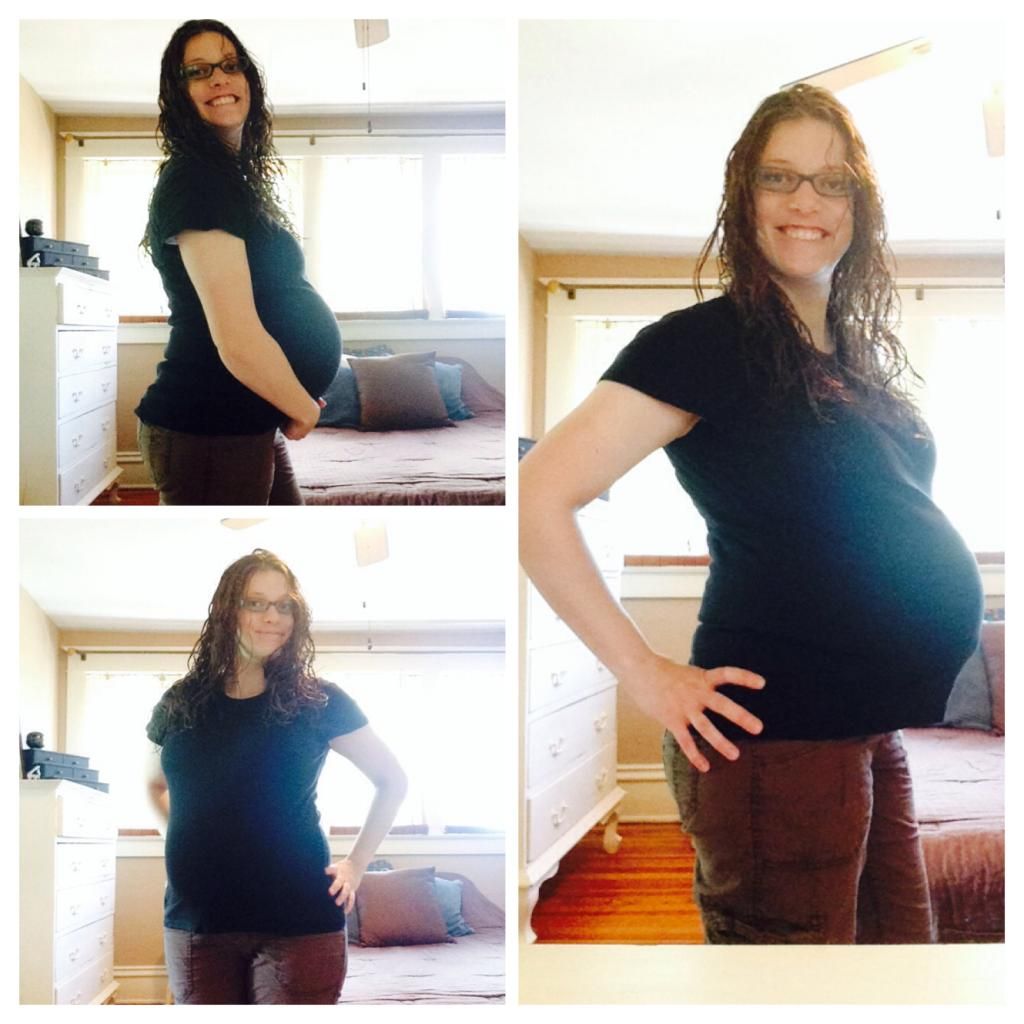 40+4 weeks
My due date was on October 7th, my mother in law's birthday. At my weekly appointments before this day came, I asked to be checked each time (even though I was given the "it's entirely unnecessary, everyone measures different, it doesn't indicate anything" lecture at each request). I wasn't necessarily getting my hopes up or anything, I was just curious if any changes were happening. At each appointment I was told nothing was going on really. Except one midwife had told me I was at a 1, at one point. But the next week I was told, "closed". So who knows.
But it's no wonder, I wasn't nearly as active this pregnancy as I was with the last. I was pretty lazy, and wasn't really doing anything to help myself along in the dilation process. (With Bladen I was induced already at a 4 and having small contractions that I didn't know about.)
My due date came and went, I was a little bummed, but still feeling ok. I was surprisingly not rushed or impatient to get things moving. I think (by dramatic evidence of my "
feelings before baby comes
" post) that I hadn't really prepared myself or thought about it all as much as my first pregnancy. I wrote that post when all those emotions came very suddenly after being told I would be induced the next day. (Tuesday 10/14/14). It suddenly was here and I had to face all those things I was choosing not to think about.
Just about 41 weeks, out at Port Farms
Ok- jump to Monday night when I was to go to the hospital to get Cervidil at 10:00PM, and then to go home, sleep, and return in the morning to be induced. Well that's what I thought my doctor had said, but apparently I misinterpreted his instructions and was to be admitted and staying in the hospital that night. Whaaaaaaaat? Deric and I were pretty surprised, I had brought nothing with me and we were both a little unsettled/unprepared. When we had a moment before Deric went home to get my stuff, I asked him to give me a blessing. It was nice to have that blessing. All I can remember being said is that Heavenly Father had a plan, and the delivery would go according to that plan. That could go either way, but I decided that it was good and I felt calm afterwards and knew if I had perfect delivery or a c section, it was all part of the plan, not to worry.
They put in the Cervidil (medicine that sits on the cervix overnight to soften and help dilate), and that was ridiculously painful. Either my cervix was playing hide and seek, hiding deep inside my body somewhere, or that nurse had giant hands. Probably both.Then the IV was put in, another ouch. A gross ouch. (Needles and foreign things sticking in your body are gross.) Deric and I watched TV for awhile (TV!), and eventually decided to get some sleep. Ha! Sleep, in a hospital, that's a joke.
8:30AM came and things started happening. At 9:00AM Pitocin was started and Deric and I sat and watched TV. (TV!) I don't know when I started getting contractions, but it seemed like it took a little while. They were ok for a little while, and then if I remember correctly, it seems like within an hour's time period things got painful pretty fast. I asked Deric to rub my foot really hard, like last time, so I would have a distraction to focus on that pressure instead of the pain I was feeling. It didn't really work this time around, so I asked him to rub my shoulders and back really hard, that seemed to help a little bit. If nothing else, I finally got a back rub. =)
I'm going to guess that around 11:30 is when I asked the nurse if there was something I could take to help with contractions, I was getting to my end point. She said I could take this drug that would "take the edge off", I can't remember what it was called. I asked if it's the one that makes you tired and a little loopy, she said yes. I was reluctant to take it because I wanted to be
present,
and in my own mind when Addie was born. I had to really fight to listen and follow instructions after taking that drug with Bladen's labor. She said I could take a half dose, and I asked her to check me to see how far I was. It had only been a couple hours, but I felt like with the kind of contractions and pain level I was at, I had better be pretty far. (Because if I wasn't dilated much and I was going to endure that pain for who knows how many hours.... bleh.) She checked me and said with much surprise that reflected my own that I was at a 7, at least. Oh great relief filled me! Yay! I was almost there, which meant it would almost be over!
As soon as she said "7cms" I asked for the epidural. I know better. I've been told much past a 7 they won't let you get an epidural and if I had gone from closed to 7cms in 2 and half hours, then I wanted it now, no time to waste. PLUS, who knows how long it would take the epidural dude to get there.
The nurse had to get permission from my doctor who I think stopped in once at 8:30. But she was in an emergency C Section and was busy. She must have given the "OK", because the epidural dude came in. WOW, I wasn't really nervous for that part. But when he came, and with the pain of my contractions and getting to the point where I couldn't get through them without crying, I was a nervous shaky wreck. The whole "DON'T MOVE" aspect of it all is scary and HARD to do when you are crying and breathing through PAIN. But that scary hard moment was over before long.
Here's the thing: epidurals are weird. I guess maybe I don't understand how they work, which is my fault, I haven't cared enough to do the research. I explained to the E dude that my last one didn't take with my right hand side of the body and I could still feel the peak of every contraction. This knowledge somehow helped him and he was able to get all things numbed pretty well. He explained to me that I would still feel some pain when I started pushing. (What?! Wasn't that what an epidural is for, E dude?) But for the time being, I was ok for a bit. At 12:47PM I experienced some relief for a bit.
So just after this is when things went into hyperdrive, that's a thing right? It seemed like I was ok for maybe 30 mins, and then I got to the whopper painful contractions, apparently. I suddenly could feel it all again. ............... Epidural dude, not cool man.
With crazy painful contractions back again, I just tried to breath and cry through them. Holy wow. But then I thankfully started to feel pressure and that I wanted to push. We called in the nurse and she said she would go see where my doctor was at with her C section. I guess she was just finishing up with everything and wasn't sure if she would make it.
While nurse was away, I was having a pretty hard time in general, but also not pushing. She came back and started to get everything ready. She said we were going to do some pushes and the doctor would be there shortly. So I held my knees back while laying almost flat, no stirrups! (Those things are so awkward, even during labor.) I began pushing through the crazy contractions. I don't know how to convey how I felt all the sudden. I think I cursed Epidural Dude's name. No, I didn't. I in fact did not scream or curse (not even in my head!) at all. I just cried, and probably grunted. haha. But holy dang amounts of RING OF FIRE pain! I've heard other women talk about that "ring of fire", dude, it's a real thing. And who knows if I was even feeling all the pain or not? My legs were lovely numb jelly blobs, but the rest of me was NOT.
C section doctor wasn't showing up, so nurse ran out to find another doctor that could slip in real fast. In came the doctor that I wasn't crazy about from my OBGYN office. I was a little disappointed, but literally as he was putting on the gloves and acting all matter of fact and "let's get this done", my nice lovely doctor came in and swooped in. She was all ready to go and as soon as she came in I was on my last pushes.
My water still hadn't broken yet, and with one great big push it snapped. Everyone then said, oh my goodness, she has so much hair! Oooo I was excited and happy after that. I think I pushed maybe 2 more times, once for the head (!!!!!!!!FIRE!!!!!!!!!) and then an easy last one for her body, and she slipped out.
Wow! She was purple and blue (not because of the cord or anything) and was spread eagle! I saw her hair and I saw her beautiful eyes, she was mine. They wrapped her in a warm blanket and laid her on my chest. That was the best moment ever, I'm sad I didn't do that with Bladen. It was amazing getting to just hold her instantly and see her and have her (
finally
) in my arms. I thought about Heavenly Father and prayed in my head thanking Him for blessing me and trusting me with this beautiful baby. I thought about my Grandma Asmussen, who passed last November. I don't know if she had any hand in convincing Heavenly Father I needed a baby and needed a girl, but I often imagined this happening. So I thanked my grandma, and I just felt content and happy.
Deric had tears in his eyes, and I had tears in my eyes, it was so special. (With Bladen I think we were both stunned. Neither of us cried.) Deric was great. The whole time he was by my side, talking to me, telling me I was doing a good job. I wasn't really paying attention to him to much while pushing, but he didn't threaten to pass out this time, which was much appreciated.
And that is my labor story.
She was born at 1:34PM. So from 12:47PM to 1:30PM I dilated those last 3 centimeters. From 9:00AM to 1:34PM, I had a 4 and a half hour labor.
THAT
, is awesome. They should all be like that. I was so worried it would be a terrible experience, and it was wonderful. It was so quick.
We are loving our little Addie Lu. I love her nickname. I actually have been calling her baby Adelaide mostly, which surprises me since I fell in love with the nickname first. But she is perfect and so sweet. Her temperament is very mild and happy overall.
Bladen just
loves
her. He is always asking to hold her and touch her and loves to get close watching her and giggles at everything she does. I constantly hear "aww, she's so cute!", and it makes me so happy he loves his sister so much already. I wish Bladen had a sibling closer in age to really play with, but this age difference is great so far. I really appreciate that he understands what is going on and when I explain things to him. We haven't seen too much new behavior from Bladen, maybe just more rambunctious. But this could also be from us not being able to play with him as much and him needing to get his wiggles and loudness out.
Bladen brought gifts for Adelaide.
We are a happy family of 4! Welcome to our family baby Adelaide. We love you so much already.
Adelaide Lucy
8.2 pounds
20.5 inches long