Where to start? I was once the blogging queen, I ruled at it, it was fun, I was witty and enjoyed sharing our experiences. But then somewhere along the way it began to feel tedious, took longer than I wanted it to (I hate that I have to upload photos to Photobucket and then link them to my blog), and really I just became lazy. I truly go on my blog just about every day, checking to see who else has kept up with their blogging. I don't have a true answer as to my blogging hiatus, I think it's been many things. But today I feel like blogging. So, hello again.
Well good news, I am happy to share that I am pregnant! Finally. First of all I have to say that sometimes I feel like a spoiled brat because I had to wait for 1 1/2 years while we were really trying to get pregnant. And that was hard, I will explain more in the coming paragraphs. But let me say that I support, pray for, and admire those friends, family, strangers that are going through similar things, or harder things. It is so hard to want something so bad and to just not understand why it's not happening. All my love and prayers to you. I do not take my blessing for granted.
So yay! I am pregnant, not only am I pregnant, but I'm pregnant with..... tw.... you thought I was going to say twins huh? Umm, my head would explode, as cool as that would be, I've only got one squishy swimming around in there. NO, I was going to say I'm 15 weeks pregnant!
That
, is nothing to shirk at.
That's,
2nd trimester bliss people.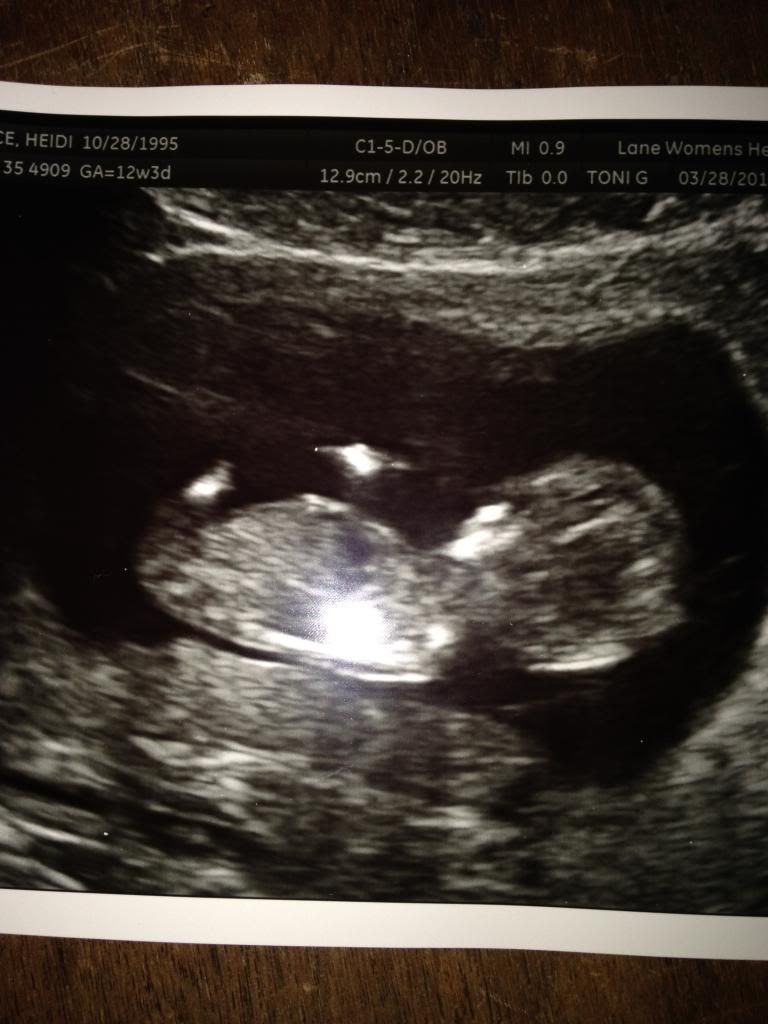 12 week with a heartbeat and everything!
I am so happy and grateful to be on my way with this pregnancy, and that I am technically out of the "scary" stage. (Past 12 weeks.) Although, I doubt I will stop worrying, however little it may be, until this baby is in my arms. Why all the worry and fear? Here's the rest of the story that you probably all put together on your own:
Deric and I started trying to have a baby in August of 2012, dang that sounds so long ago. I wanted to have my kids closer in age and Deric agreed to try, which is most of the battle really, or so I thought it would be. When we tried with Bladen, we pretty much got pregnant the first time around, it was a giant blessing I am now realizing. But months and months of trying went by and no pregnancy. Finally when we sold our house and were packing up all of our possessions from the home we loved for 3 years, I found out I was pregnant at the end of April 2013. Eeee, I was so excited and READY. I was a bit bummed my due date was January 2nd because that would mean no family for Christmas again, I wouldn't be able to fly. Plus January is like the most depressing month of the year in conjunction with baby blues that would surly come. BUT, I was pregnant and thankful and happy.
Then Deric and I experienced probably one of the worst summers ever. We moved into a temporary place that was just a mistake from the beginning. It was a blessing, but it's one of those blessings you look back on and wonder why that had to happen. I'm sure one day we will understand or have more perspective. But it was a bad stressful situation, on top of job searching, trying to plan moving to Jamestown and finding a place to live, and Deric barely having hours at his job. Then I miscarried. Sometimes Deric and I sit and talk about "how" it happened, and what really made it happen. (It being the miscarriage.) There was an event, one that I don't think I will ever share publicly because I don't want to be
that
person and air mine or other's dirty laundry and experiences for people to judge. But it was extremely stressful and upsetting and probably the worst experience I've ever had in my life. I shortly miscarried afterwards, and whether it was this event with all it's incredible stress on my body that "caused" it to happen or not, we'll never really know. Sometimes I blame it on that event, usually on days that I'm probably being less mature, and then most of the time I can be logical and know that sometimes things just happen.
June 2013
I had a D&C at the beginning of June, which wasn't a terrible experience, but who wants to go through one of those by choice? It's kind of weird having a miscarriage, and the different emotions you go through. I imagine it must be different for everyone. But at first I was of course sad and disappointed, but I remember thinking I should be a lot more upset about this. But I was 9 weeks pregnant, and there was probably never a heartbeat. I hadn't connected with the baby, I just wasn't as upset as I thought I would be. I was more upset about the decision to get a D&C because it just felt so final, and abortion like. I know it wasn't, and I am sure is very different than actually getting an abortion. But all I could think of were these sad graphic thoughts in my head, that was the hard thing to decide. But I didn't want to wait around for my body to do things naturally when it could have taken a long time.
Truthfully as time has gone on and I have been able to process things more, I think I have a sadness that it happened. But I feel like I have a good perspective on life and my beliefs. January 2nd, 2014, my due date, was sad. It was hard to think that I would have had a baby around that time. I cried a bit that day, and have random times that I get sad and think about "how behind" I am with my family, but really I'm not. Every family is different and even though mine hasn't turned out as I had planned so far, I am grateful and happy to have my family.
OK- sad stuff is over. Now you know. But like I said, it probably wasn't hard to figure out with all the comments I would make about needing a baby NOW and how sometimes you wonder about some of your friends on facebook and "why haven't they had another kid yet?" (We've all done it.)
ANYWAY- continuing on with what is now a long essay, Deric and I couldn't try again for 2 to 3 more month after the D&C. So in August, a year later from when we began this baby making journey, we started again. And goodness this is where I feel like a brat because it was so hard to understand why it wouldn't happen, why why why? How frustrating. Month after month. What is wrong with me? What if Bladen will be our only child? What if it takes years and we need outside help? I feel like a brat because these are real questions for others that they are still asking. (Loves to you!) But we got pregnant in the beginning of February. Technically I am supposed to start over from our trying countdown from when I miscarried, but I am counting from when we first really started. Over a year and a half, goodness. I am thankful.
Deric's, "you're going to be a dad again" pie. What a lucky man.
My saga needs to end, this has taken me all day to write. Here are the quick facts:
-Due Date: October 7th (Holy cow! OCTOBER?! Again?! Maybe I am more fertile in February...)
-15 weeks, 2nd tri. I look about 20 weeks, darn flabby skin pushed up early by uterus.
-Gained probably about 5 pounds, look like I've gained 10, 15, 20....
-I'm in that awkward looking stage. Others may think I look pregnant, but I just feel pudgerific.
-I won't find out the gender until the end of May. *Sob* That is so far away. We are all crossing our fingers for a girl. I seriously want a girl, so I will probably get a boy. But I had a day dream today of just holding my new teeny tiny and rocking them in the dark. I don't care what I have, I want that baby no matter what it is.
-I have been sick this pregnancy, a lot more so than with Bladen. Nothing particularly sounds good, like no specific weird cravings. But it has been so hard to eat healthy this time around, nothing healthy sounds good.
Puke count: 5
That's all for now, I'll hopefully keep you posted better. I really enjoyed the new found freedom and voice I had when I was pregnant with Bladen. Maybe it was bravery, maybe I didn't care what people thought all the sudden. Probably the last one. So gear up, because I may be talking about gas, or potty training details, or nipple soreness, whatever I want. I can't miss out on recording that fun this time around.
My alien baby is staring into your soul.... (cue the X-Files music!)