Back to New York, still playing catch up!
NYC Day 1
was so spectacular, how could anything compete with it? On our second day, we woke up to Deric's Birthday!
The previous night my parents had gone to their night of Wicked, and on their way back they found some birthday cupcakes that we ate for breakfast. We also tried to decorate a bit and had a few gifts!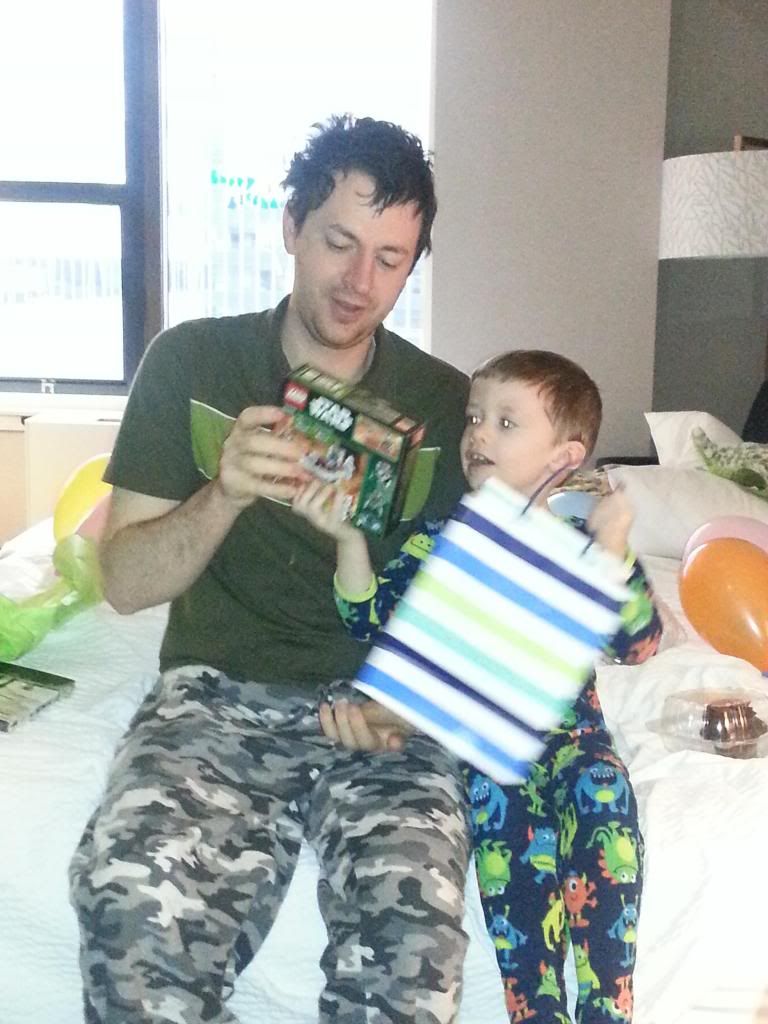 Deric was awesome and shared all of his gifts with Bladen, since most of them happened to be toys. (Star Wars Legos!)
Then we were off for the day! It was kind of cold and rainy, and I had the early 1st trimester pregnancy tireds, so we took a cab to The Museum of Natural History in Central Park.
I wish I had awesome things to say about the Museum. You see it in movies, and in television shows. It is always made to out to be so cool, but in my opinion it was kind of boring. I thought there would be more artifacts, not displays and man made diagrams. There was a lot of reading, so it was pretty boring for Bladen. Deric on the other hand thought it was pretty awesome. Nerd.
There were some interesting things that we all enjoyed, it was just not what we had expected I think. Bladen really enjoyed the dinosaurs, so we spent a good amount of time there.
This was in the afternoon, I was pretty pooped by then.
He loved the dino bones and ran around with Papa, and Grammy looking at all the big dinosaurs.
For lunch I had done some research before hand and found out that there was a Shake Shack just up the street from the museum. We put our learning/exploring day on hold for a bit, and went to get some yummy sustenance! Apparently Shake Shack is the East's popular burger joint as opposed to the West coast's In and Out Burger. It was insanely busy, very hard to get a table, and tasted pretty good. Everyone really
enjoyed
devoured their burgers and fries. I thought they were ok, In and Out still has my vote. But I did really like their fries and strawberry shake.
Then it was back to the museum for a bit before I was totally pooped and went back to the hotel.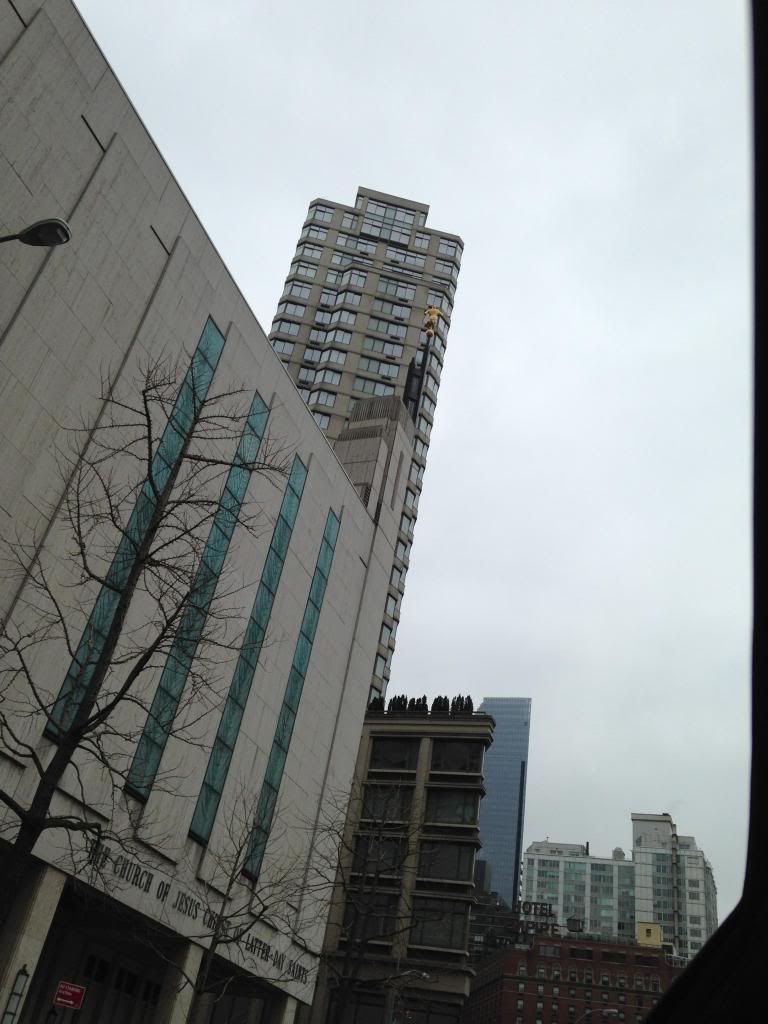 On the cab drive back, we happened to see the NYC temple! It just kind of popped out of no where and actually blended in pretty well. This is the best picture I got, and it is still hard to see, it almost looks like a regular building. Neat!
After some rest and some dinner, it was now Deric and I's turn to go to Wicked!!! It was drizzling/misting pretty good still, so we decided to try and get a cab. I think I've heard somewhere how hard it is to get a cab in the rain in NYC, they weren't kidding. We were in our nicer theater clothes, standing out in the rain, waving our arms to the million cabs that were apparently already full of customers. When we would finally get one to slow and pull over to where we were, all the experienced rude New Yorkers would pounce and hop in the cab before we had a chance. It was a little dumb founding. After many attempts and deciding we were pretty soaked already, we just walked to the theater.
Oh man, Wicked was pretty darn amazing, it was everything I expected it to be. Deric was skeptical of what it would be like when we sat down in our awesome seats. (We had a great view, not too close, not too far.) I asked if he was excited and he said not really, he expected it to be like the other plays he had seen in Cedar City at college. (What?!) Deric really didn't grasp how awesome Broadway is, how everything is amazing and over the top. Well he was in for an awesome experience, it made me even more excited to watch the play and watch Deric experience it all.
At intermission, after "Defying Gravity" Deric was sucked in and sold. He was taken back by how awesome it was and was really enjoying himself. I knew he would, it was really fun to experience that with him. (Kind of like taking him to Disneyland for the first time!) Wicked was amazing and we are so grateful we got to go!
Day 3 in NYC
I wish I could say I enjoyed this day more than I did. I think a lot of it had to do with my hormones being wacko, but I think it would have been hard for me anyway. We went to the World Trade Center Memorial, and they did such a great job with it.
We took the subway over to Brooklyn. Subways are always fun, Bladen thought it was pretty fun!
Then the really cool part of the day that I did enjoy was walking over the Brooklyn Bridge. That was something that several people suggested to do, so walk we did!
It was a bit windy and packed with other tourists and runners. It was really neat to walk across and look at all the buildings in the business district, where the WTC's were.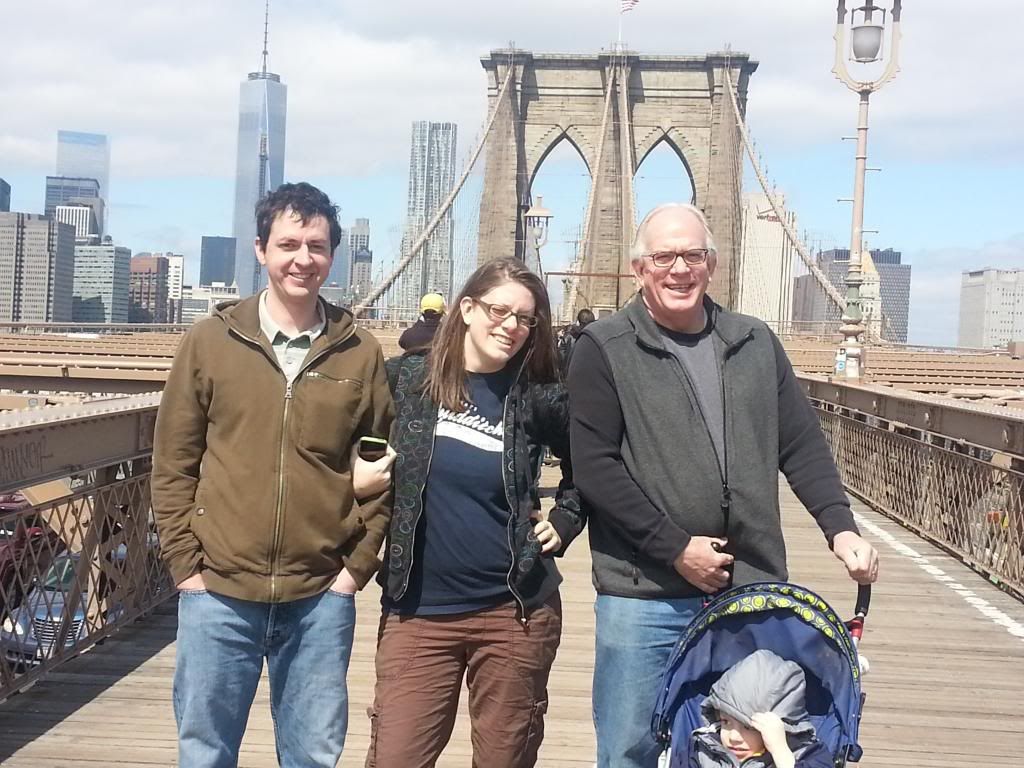 The giant tall building behind Deric is the new Freedom Tower that they built in place of the 2 big towers. To the left of the pic is the Statue of Liberty, and to the right of the pic is the Empire State Building and Chrysler Building.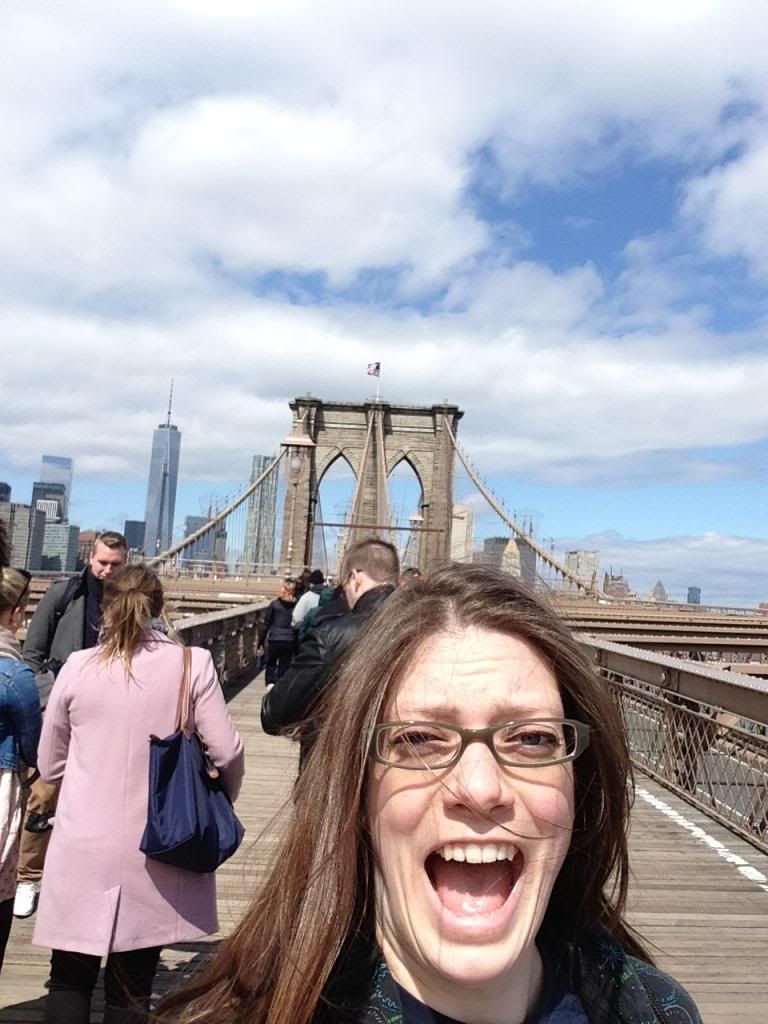 I liked walking across the windy bridge, it was pretty cool.
Then when you actually get into Lower Manhattan, there is such a different feel there. Maybe it was just my own somber feelings, but it isn't happy and upbeat like the rest of the city. I think it was also Saturday, so all the business peeps weren't around either. But it just felt different.
Dude, that's a tall
tall
building. It is very beautiful and looks cool with the clouds and the windows. But I don't think I would ever work there. I think it's kind of crazy that they built another building that tall again. I understand why, it just seems kind of intense to me.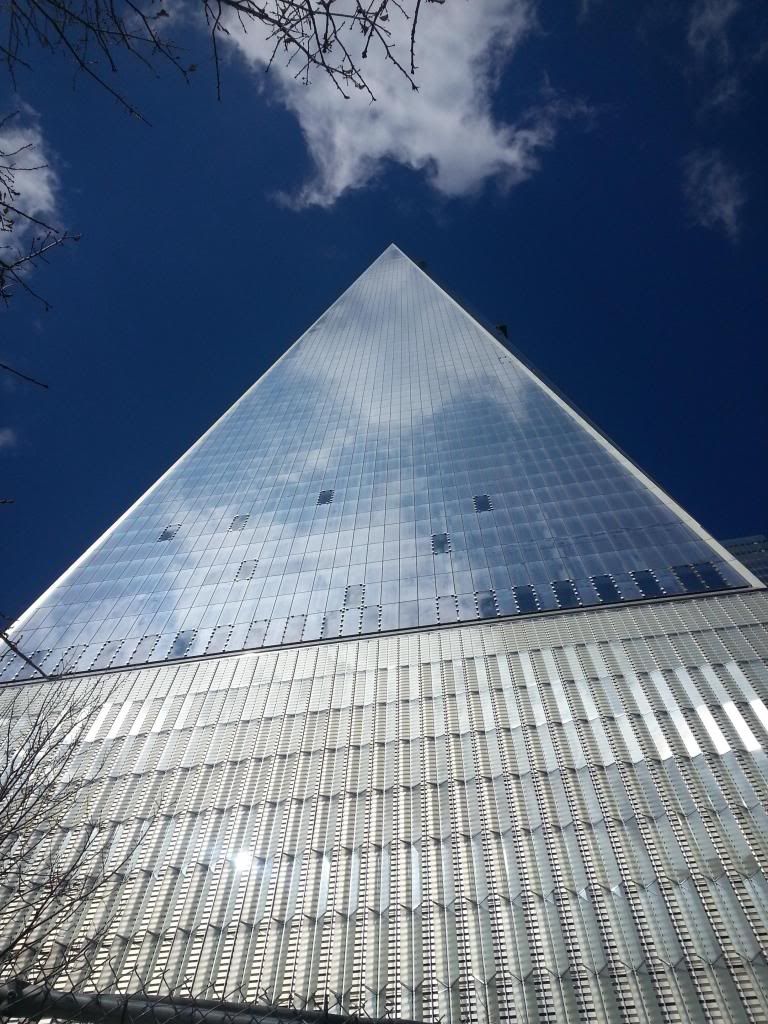 Looking up the Freedom Tower. Bladen liked it a lot and kept talking about how tall it was.
The memorial itself was breathtaking, and reverent, and so ridiculously sad. The two fountains where they buildings once stood were beautiful. I am a bit of an emotional person anyway, but like I said I think I had a more concentrated amount of feelings that day anyway. I pretty much cried and sobbed to myself the whole time we were there walking around. I prayed for all those people and their families as we walked around and looked at the water and all the names. I remembered all the horrible images and imagined all the terrible ways that all these people died and how sad it was. I wish I wasn't like that, so imagery based and emotional. The rest of my family was able to walk around respectfully with their heads on straight. I guess it's just different for everyone. So it was a hard experience, not super enjoyable, but that's not what it's about. Regardless, I am glad that we went.
Anyway- that was our New York trip! 3 short, jam packed days full of fun! It would be fun to go back or have had more time to explore, but it was perfect. The first day was my favorite, the energy of Time Square can't be beat. I bet Central Park would be awesome, but it was still winter/spring time and the trees didn't have any leaves. So when we drove through it to get to the Museum, you could tell it's a pretty cool park. But would be especially beautiful with all it's foliage.
Things I want to do if I ever get to go back:
-See another Broadway musical
-Eat some awesome cheesecake
-Go to Central Park
-Do more shopping, or looking
-Try more fun and unique food places
-Check out some more big landmarks
Thank you mom and dad for taking us to New York! We are so glad that we got to experience it in general, but especially with you! We had a blast and have so many great memories!