*EDIT* I pulled this a couple hours after posting and only a few lucky people got to read the original. Lucky lucky you. It is now updated and edited with what his first TEACHING day was like. Thanks. *END EDIT*
Deric had his first day of work on Tuesday at his new teaching job! Since we found out in December that he had gotten the job, its been a whirl wind of multiple conversations involving syllabus, teaching styles, throwing wheels, and so on and so forth. He has been preparing none stop, getting the studio and himself as prepared as he can.
When I said before that this was going to be his own program, I wasn't sure what that meant necessarily But it really has turned into setting up his own program, he has had to get everything ready. His part-time job has swiftly turned to full time job between his commute (3 hours a day, GAG), teaching, fixing wheels, trying to get purchase orders filled out for new/more wheels, answering e-mails, clay rations, and all those other arty teachy things that teachers have to figure out.
He has had to write his own syllabus and curriculum he wants to teach. This has been difficult because they don't have enough wheels for all the students in the class to participate. (What?!) So not only has Deric been running around, searching online, and calling people like crazy to find more wheels and find ways to get them to NY, he's had to tweek things so that all the students can work at one time while in class. (15+ students will use wheels and 7ish students will work on slab or coil assignments (you don't need wheels to make those.)) Anyway- what I am trying to say is that Deric is freaking awesome and a total pro already.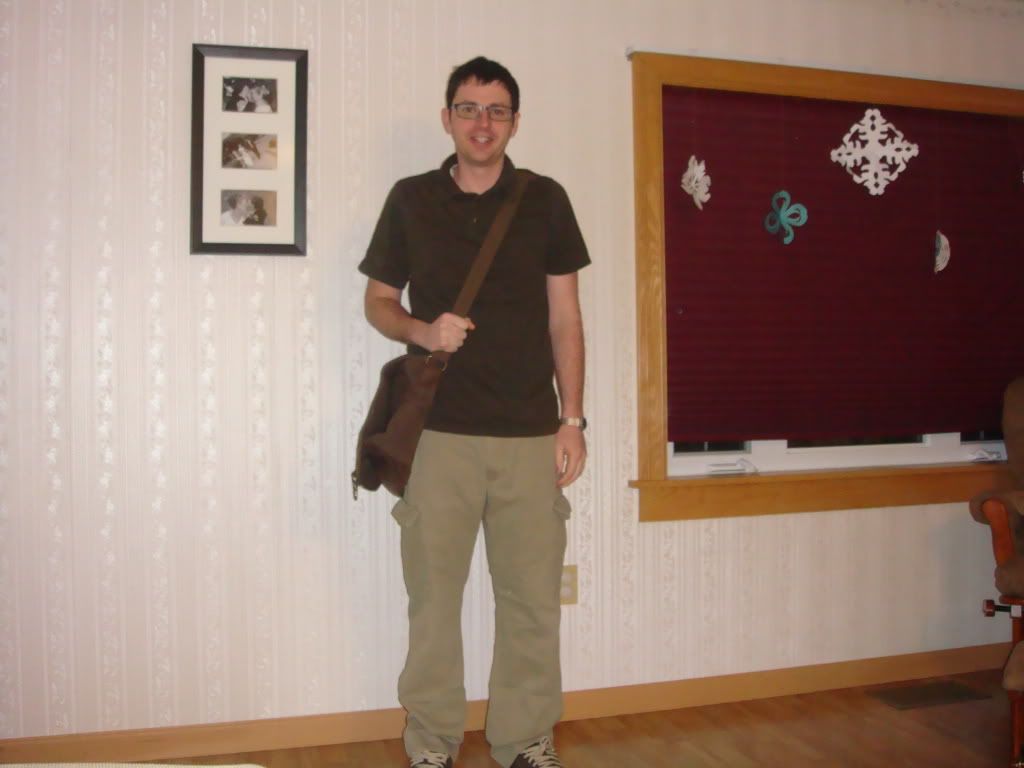 On Tuesday morning, I took Deric's picture for his first day of school, TEACHING! Doesn't he look like a cute nerdy teacher? (I think his new glasses are hot.) The kind that you think are kind of fun and funny at the same time, and end up loving their class? Yes.
Deric was pretty antsy and nervous, but very excited. (Can you imagine his drive up before teaching for the first time with his thoughts for 1.5 hours? Yeesh.) He said it went great though! It was basically a "explain the syllabus" kind of day and answer any questions, but it went well.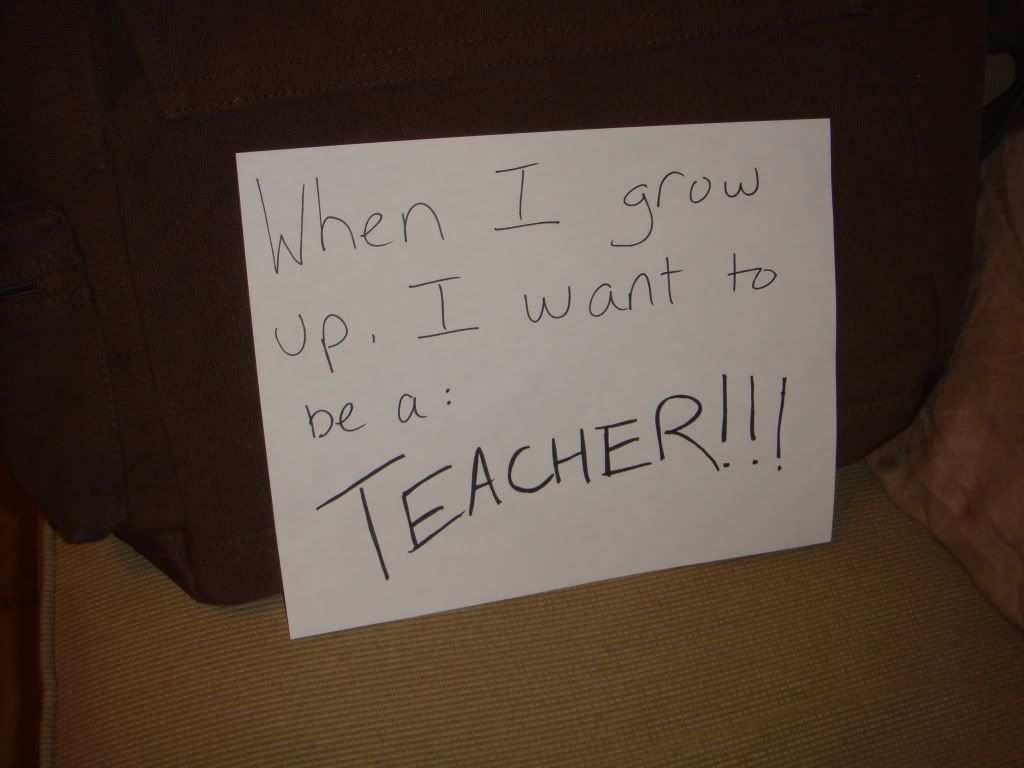 Deric refused to hold my cute sign. I thought it would be fun the way little kids hold signs up of what they want to be when they grow up. But this is cute and funny because Deric IS what he wants to be when he grows up. But alas, no. Use your imagination, it would have been awesome.
He was a bit tired when he got home and looked a little ragged. But he is happy and excited.
*Edit Addition*
When Thursday, the real teaching day rolled around, Deric was ready. Nervous/excited, but ready. I didn't hear from him very much in the day. He said he barely had enough time to eat his sandwich I had made for him for lunch. He was just crazy busy answering questions, and doing demos. He was in his element though.
When he got home and told me all about it, I asked for the verdict. And I'm pretty sure he said, "I am the most awesome teacher ever. It was a whirlwind of teaching awesome!"
Then I got to hear hours of stories about what he did, how he messed up, how he made his students laugh, how much he loved it, his adrenaline rush, the students that he likes (Oh, I mean teachers love all their students, heh, heh...), and on and and on. It was so great listening to Deric's dream come true, to see that light in his eyes. He is loving it.
I'm so excited for and proud of him. I'm so thankful for the blessings that the Lord has chosen to give us at this time. Goodness knows things aren't going to be a snap in life still (will it ever be, probably not), but we are happy and excited for a step in the right direction. We're thankful to be given an opportunity.
Although teaching is what Deric has always wanted to do, and he had a wonderful couple of first days...
...I still think this is his favorite part of the day. Getting hugs and loves from the bug. =)
We're on our way!!!