Well Happy New Year to you! It's been a long while since I blogged diligently and unfortunately I'm not going to proclaim that I will blog every day in 2014.
I supposed I want to reflect, that is what people usually do this time of year. We reflect on our past year, ourselves and the events that transpired. Then usually we set goals or highlight the changes we want to make in this new fresh year, because who doesn't like a fresh start? Who doesn't want to improve and make themselves better?
It's a shame that we highlight or focus on all the negativity from the previous year first. Maybe it's not that way for everyone, but I think most people tend to see the negative first because it is what sticks out in our minds. I'm not exempt from this at all, when I look back at this year I put behind me a few hours ago, I see the hard and the heart ache from 2013. There has been a lot I haven't shared this year because it's not very fun to talk about your personal struggles (it makes them more real and final), thus why I haven't blogged much, I just didn't feel like it. And I still don't know if I'm ready to talk and address all my
whatevers
.
BUT
, even though I see some of the hards first, if I look around them and maybe even through some of them, I can see the happiness and immense blessings that we enjoyed this year.
I'm going to quickly (it took all day do this, blogging takes forever!) brainstorm and write down blessings and happiness that we experienced for each month of this last year. When I look back at this blog I want to remember the happy as well.
My Happiness in 2013
January:
-Deric FINALLY got to start his dream job. It's a smidgen of his real dream job, but he finally got to
begin teaching
at JCC. We were both so happy and excited to start this journey.
February:
-Grammy and Papa came to visit us!
-We
finally
sold our house after it being on the market for just about a year. We didn't make any money, but we were OK with that. We just felt it to be a huge blessing for it to finally be sold.
-We discovered Bladen's love for bowling!
-For Deric's Birthday I surprised him with a day of festivities of his choosing. (I never blogged about this, bummer city. Maybe later.) I compiled a list and picked to go to the boat museum in Erie. Sounds boring, but it was actually pretty cool!
We got to go on this sucker as they were putting the masts back up from the winter. It was cool!
April:
-We celebrated Deric's 31st birthday!
-We packed and closed on our house.
May:
-We got to go to the Oregon Coast with my family! It was probably one of the biggest highlights of the year for me. (And I got to see Lukey Pants, I'm obsessed with that kid.)
-Deric finished up his first semester of teaching!
June:
-We went to the Meaville Balloon Festival for the last time. There were only two balloons this year due to mushy grounds, but Bladen still loved it.
-Bladen and I got to go on a SUPER AWESOME trip to Viriginia with our best friend's, Christina and Avery! (I didn't blog about this either, it was awesome and must be blogged!)
I'm not sure what is happening in this picture, but it's awesome!
I hope we get to go back next year because it was so fun! Who wouldn't like time with fun people, a beautiful place, and swimming every day?! ( More on this topic later!)
September:
-My hair is no longer a virgin to dye! I loved my dark dark hair. I would love if I could make it last longer, but I'm not willing to do the upkeep and touch up roots. Too much work and money. But I will do a semi-permanent every once in awhile!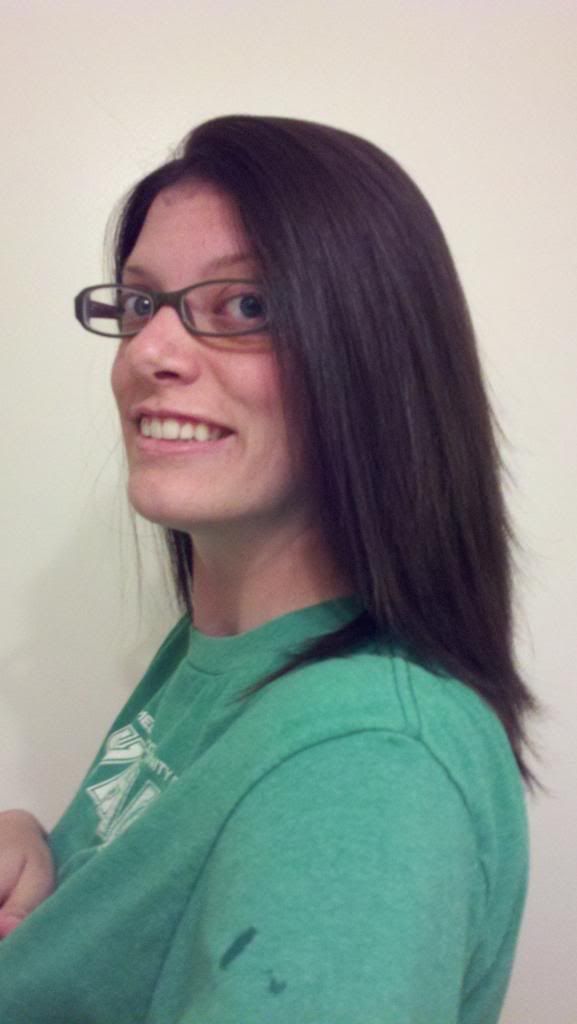 Don't I look sexy and sleek with dark hair? And I don't even have any make up on in this picture. Boo ya!
-More exploring and getting to know people in Jamestown. There are kids for Bladen to play with!
-Deric finally received his copy of the book his work was published in!
This was also a highlight of my year. Big time.
And that was my year. There were a lot of hard moments, yes, but there were so many great ones, especially towards to end of the year. I'm so grateful that the Lord has blessed me and my family so greatly to be able to enjoy what we have, where we are, the family and friends we got to see this year, and all the other little moments in between. I am so blessed.
So as I begin this new year, I look forward to the happiness and blessings. I know there will be trials and hardness. I think there is difficulty in everyone's lives, and that's just kind of where Deric and I are at with his career and living in the East away from our families. But trials are there for a reason, to learn and to grow from. We are eager for change and to reach or goals, but we are working hard and focusing on happiness in the meantime.
This year I choose to be happy, to find and live my life with happiness.
Happy 2014!
Exactly.